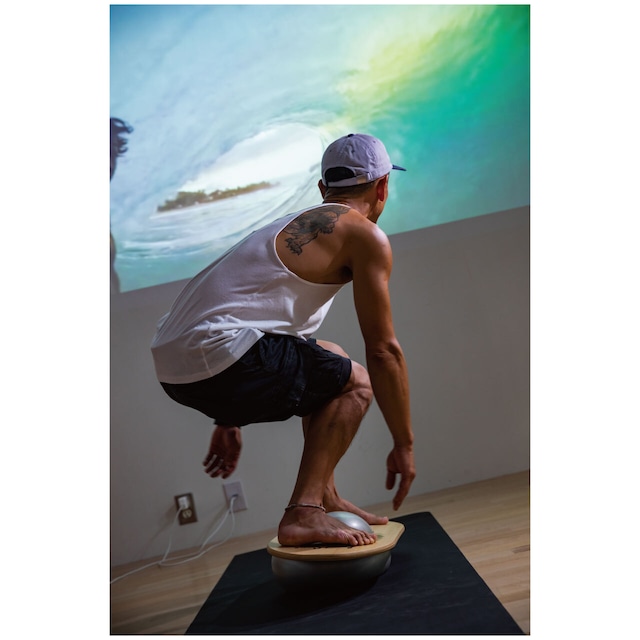 LandSup®︎ Crazy mini "Man-hole"
¥16,500 tax included
the last one
※ この商品はボード、ボール、空気入れが付属しているセット商品になります。

Official SHOPだけの限定モデルが登場!
そのうちの一つが「Man-hole」。
LandSupとMan-hole・・・なんの意味もありません!

----------------------------------------------------------------------
陸上版サップ LandSupのミニバージョン。
かわいいサイズですが揺れは予測不可能。
室内外問わず、
日々の体幹トレーニングに、
横乗りスポーツのオフトレに、
楽しいトレーニングを可能にするアイテムです。

またボードとボールはセパレートになっており、
ボードの厚さはたったの1.5cm。
使わないときはちょっとしたスキマに収納が可能です。

【付属品】
ボード:縦30cm×横60cm×厚さ1.5cm/重さ1.1kg/日本製
ボール:アンチバースト仕様 直径20cm/重さ0.1kg /耐荷重90kg/中国製
空気入れ:縦14cm×横10.5cm×高さ11cm /ホース長さ76cm



*特許出願中

*ご使用の際にはボールを十分に膨らます必要がございます。
ボールは付属の空気入れを使用し、20cm以上膨らませてご使用ください。
*付属品に関しましては予告なく変更することがございます。



Set of board, ball and inflator.

Cute size, but shaking is unpredictable.
Can be used indoors or outdoors,
A fun item for daily core training.

Play, hard training, tricks, training while watching TV, cooking in the kitchen, camping, etc. Crazy mini can be used and inspired in any way you can imagine. Crazy mini can be used and inspired in any way you can imagine.

It's not just about riding; even the most experienced users can find new ways to challenge themselves, such as squats and push-ups. Simply inflate without tools with the included inflator and you're ready to have fun. For beginners, less air makes it easier, and more air increases the difficulty. You can gradually increase the level of difficulty. You can also train while watching videos, so you can enjoy visual training such as surfing, snowboarding, and so on.


【Specifications】
Board: 30cm (length) X 60cm (width) X 1.5cm (thickness) / 1.1kg / Made in Japan
Ball: Anti-burst specification, diameter 20cm / weight 0.1kg / load capacity 90kg / made in China
Air inflator: 14 cm (length) X 10.5 cm (width) X 11 cm (height) / Tube length 76 cm


*Patent Pending

*Fully inflate the ball before use.
Inflate the ball at least 20 cm with the included air filler.
*Accessories are subject to change without notice.
Add to Like via app
Reviews

(57)

Shipping method / fee

Payment method